Tested through and thorough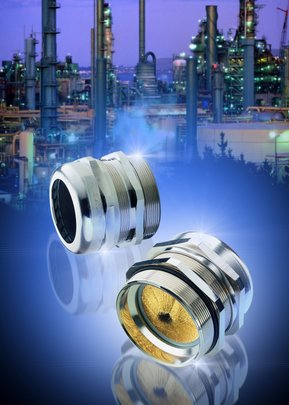 SKINTOP® cable glands and EPIC® connectors
Cables often have to be inserted in control cabinets or housings using so-called cable entry systems. Two different systems available from the Lapp Group are cable glands and connectors.
SKINTOP®cable glands produce a secure connection in a matter of seconds. The cable is fixed, centred, hermetically sealed and completely strain-relieved in a single step. Users can choose between a wide range of versions: made of plastic or brass, designed for explosion-hazardous areas or EMC applications, halogen-free or anti-kink versions, metric or PG thread sizes.
EPIC® connectors are used whenever measurement, control or drives are involved in the mechanical and plant engineering sector. A flexible connecting system consisting of housings, inserts and contacts. All extremely robust, absolutely secure and simple to fit - be it a rectangular or round connector.
All SKINTOP® and EPIC® products undergo thorough testing at the in-house laboratory of the Lapp Group in Stuttgart. This not only especially applies to new developments but also to products from ongoing production. Such stringent testing is a guarantee of operational reliability for Lapp and fulfils the requirements of customers and the licensing bodies.
See below for a description of some of the important tests performed on SKINTOP® cable glands and EPIC® connectors by Lapp's development laboratory.
Pulling protection testing on cable entry systems
Tensile testing of crimps on connectors
Measurement of housing geometry
Electrical testing of connectors
Protection class testing
Cold impact test
Materials testing
:Materials testing involves examining the inner structures of the plastics used. Infrared spectroscopy is used for fast material identification and incoming goods inspections. The system is equipped with a gas measuring cell for connection to thermogravimetric equipment. Thermogravimetry can be used to examine the composition of polymers, with fast testing of the temperature resistance of the specimen also being possible. Thermal analysis allows optimisation of the long-term thermal behaviour of plastics to be examined. Fast failure analysis and characterisation of thermal properties can also be carried out.
:This test involves subjecting the specimen to an impact energy of 7 joule (height of fall: 70 cm; weight: 1 kg) at a temperature of -25°C. Protection class testing (IP68) is only performed once the cold impact test has been performed successfully.
: When testing the protection class a distinction is made between protection from water and dust. Water protection class testing according to EN 60529 involves subjecting the test specimen to a maximum flow rate of 100 l water/min. The length of the test is 3 minutes. Water protection class testing according to EN 60529 also involves subjecting the test specimen to a maximum water pressure of 10 bar. The length of the test is 30 minutes. Dust protection class testing according to EN 60529 involves exposing the test specimen to talcum powder with a grain size of 75 µm. The length of the test is 8 hours. If the IP6X protection class is to be tested, the test specimen is subjected to a vacuum of 20 mbar. In all three cases the gland must prevent the ingress of water or dust in the specimen.
: Electrical measurement is required as evidence of electrical safety. The following are measured: contact resistance, electric strength, insulation resistance, impulse withstand voltage and high-voltage strength. The system can also be used to produce a derating diagram.
: A 3-D coordinate measuring machine provides for fully automatic measurement of round and retangular connectors. The resolution is 0.0001 mm while the measurement uncertainty of the entire system is 1.5 - 2.5 µm. This test investigates the degree of strain-relief, measuring the amount of force required to pull the cable out of the contact crimp. The pulling protection test is based on the European Standard (EN) and/or UL requirements. According to EN 50262 this is a dynamic test involving the application of a variable weight with a cycle of 50 x 1 seconds. According to UL 514 B this is a static test involving the application of a fixed weight of 16 kg. The length of the test is one minute.