Automation for packaging
Picking, wrapping, boxing, labelling – the actions performed at the end of the food production line require precision and reliability in order to avoid costly errors and downtime. LAPP cables and accessories for automation systems comply with the highest hygiene standards and can withstand harsh cleaning agents, hot water and chemicals. They are also resistant to mechanical stresses such as repeated bending and torsion, providing accuracy and speed where needed.
ROBOTS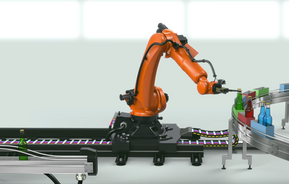 Over the past few years, robots have not only become smaller, but also far more flexible and thus versatile. At the same time, mechanical loads have grown higher which require a new approach for energy supply and data provision. At LAPP we have developed specific application cables with optimal bending radii and materials that can withstand different chemical and mechanical stresses. We can provide high-quality standard products as well as individual customised products.
PRODUCT HIGHLIGHTS
SERVO MOTORS/DRIVE SYSTEMS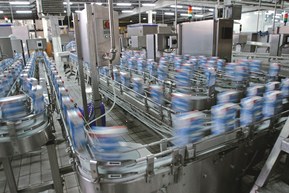 VFD/Servo Drives are often used in complex automation processes where variable speed and/or direction changes are crucial to the correct functioning of the application. Precise positioning, wide speed range and synchronisation are essential to process optimisation and ensure proper packaging is carried out.
Servo drives key features:
➤ Strong dynamics
➤ High position accuracy
➤ Large speed adjustment range
➤ Compact design
➤ Low weight
PRODUCT HIGHLIGHTS
POWER/DRAG CHAINS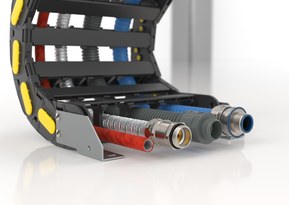 A cable chain is a mechanical system designed to protect, carry and guide cables in dynamic applications; it also allows cables to transfer power and signal between two points in relative movement to each other. That is why cable chains are also considered an energy supply system for equipment with motion sub-systems. The advantage of cable chains over traditional system of conductor bars and festoon systems is the ability to carry different cable as well as hydraulic/pneumatic hoses.
Cable chains are often located in very harsh environments so LAPP chains are available with a fully closed design. Additional covers are also available for extra protection.
Choosing the correct chain for your application can depend on many criteria including:
➤ Type of movement (linear, rotation, combined)
➤ Travel Distance
➤ Speed
➤ Acceleration
➤ Cycle time
➤ Working hours per day
To ensure you are ordering the correct cahin for your application let our industry expert assist you.
Click here or call our sales hotline to arrange a consultation 020 8758 7800.